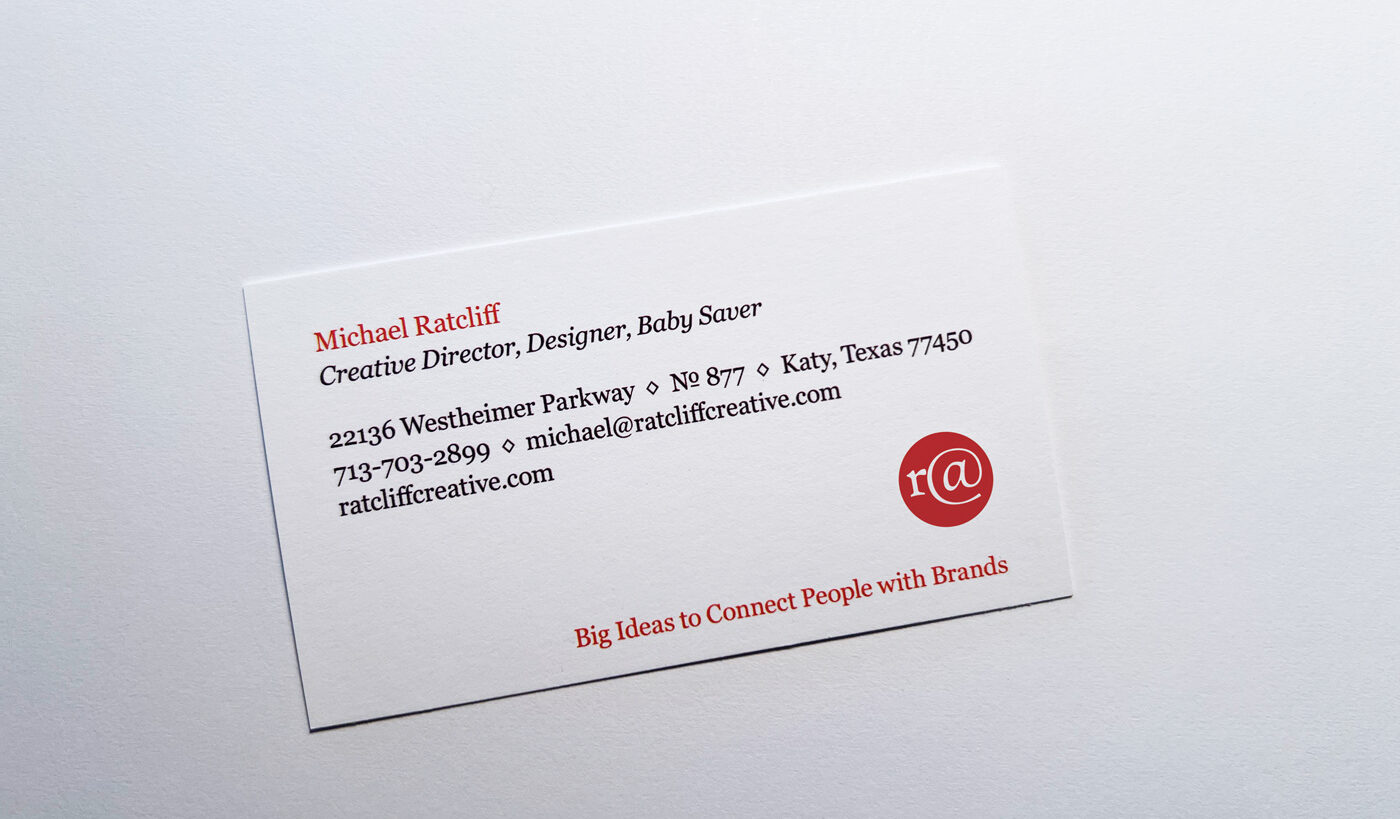 A brief explanation about my business card.​
Even something as simple as the humble as a business card can carry loads of information. A quick breakdown of mine:​
Ratcliff Creative solves everyday business challenges every day. Small by design, the studio focuses its energy on delivering world-class design communications to help businesses open new door or close deals.
Big Ideas to Connect People with Brands: People are busy with their lives. Rather than intruding into their lives, Ratcliff Creative believes in order to spark interest or curiosity, you have to treat people with respect. You do that with a BIG IDEA. Respect who they are. Respect their intelligence. No matter how small the effort, even a humble business card can be the key to moving people to action. It just takes a BIG IDEA.
Michael Ratcliff (me): I'm bad at talking about myself but here goes: In addition to being a Designer, I'm a husband, a father of three, a devout cyclist, a wannabe comedian, love the Astros and hold the steadfast belief that the French press is the optimal way to brew a superior cup of coffee. If you're into awards, I've been recognized by The American Advertising Federation, The American Marketing Association, The Business Marketing Association (the ANA nowadays), The International Association of Business Communicators, and Print magazine.
Creative Director: Yes, Ratcliff Creative is a one-man shop so how does one direct oneself? You'd be surprised. Creative direction is also about project planning, managing trusted partners and putting people into positions where they can succeed. I've also always thought the role of the CD included being an ear for your client, listening to their problems carefully and helping them see new ways forward.
Designer: Much in the way Charles Eames thought of himself as a "craftsman" rather than an architect, I've always considered myself a Designer first and foremost. Way back in the day, my mentor told me if you can learn to design you can do anything. A few decades later his advice has still proven to ring true. More than almost anything, after 30 years of practicing I still love to get up every morning to make something new.
Baby Saver: Since I don't mind being stuck with big needles, I make quarterly donations to the Gulf Coast Blood Center. On one visit, they informed me that not only is my blood great (A+) because it is a universal match for anyone, but that there is something about my blood that is particularly good for newborns in need of neonatal care. I cannot encourage you enough to give a little of yourself to help someone in need. And rack up a little good karma!  
The Studio: Working from home is nothing new, it's just lately come back into vogue. Way back in the Renaissance, it was common to have a "studio" in your home. A place of study and contemplation. 
What's with the logo? One of my friends always calls me "Rat". While working on a logo for myself, I finally fully embraced my Rat-ness and this symbol was born. There are multiple iterations as I change the type up from time to time, but the concept it always there.

Il fait l'audace. Encore l'audace. Toujours l'audace.