Long Tail marketing refers to the strategy of targeting a large number of niche markets with a product or service. It's mainly used by businesses that are dominated by a huge market leader. Facing a battle to grow, a company can shift their focus to multiple niche markets that have less demand.
I love the Long Tail  because I've always had an affinity for very obscure things. Whether I'm looking for a bone-folder, a custom-made popper, a hand-painted Italian racing bicycle or some long out-of-print book, riding the long tail is both a privilege and a pleasure. Thank you Internet, for making this possible.
Lately I have hit on two instances where the Long Tail has been taken to the next level. Finding things is great, but when you can actually connect with warm-blooded people who also share your passion, that makes the experience all the richer. In both cases, this connection led to something I did not expect: Not only did I want to buy something, but I want to buy more, more often. This is not like me at all. Anyone who knows me knows that I'm as big a spend-thrift as old Uncle Scrooge.
A warning as you read the two examples below carefully; they might be cleverly disguised adverts for the respective company.
First example: For the past year or so I have suffered from a low-aching soreness in the ball of my right foot. Nothing debilitating, but enough to keep me from my morning runs. After a visit to a podiatrist earlier this year, my foot started feeling better so I went to visit a specialty running shoe store. It happened to be locally owned, not a chain. The shop is called Good Times Running Company and it is quietly tucked away in a suburb west of Houston.
Now, you may say that running is a mainstream sport, how is this a trip down the Long Tail? This is an example of the Long Tail in that I had a very specific need that a mass market retailer could not be unable to meet.
I went into the shop and met with Mary Ann, the owner. Although my brand loyalty has been with Altra for years, I went in my few preconceived notions of want I wanted; rather I would rely 100% on her experience and knowledge to help guide me to a shoe that would keep me running regularly, but more importantly, safely.
Mary Ann spent a solid 45 minutes with me on a busy Saturday afternoon. We talked about my issues, past experiences and preferences. She evaluated me gate (I'm neutral) and tried on a half a dozen different shoes in various sizes until I found one pair that offered me the comfort and protection I needed: The Hoka One One Bondi.
The experience was phenomenal, and I have recommended Good Times to several friends, all of whom had the same level of service and satisfaction.
From now till doomsday, I will only buy my trainers from Mary Ann. It would be cheaper, faster and more convenient to go online, grab my next pair, but why would I when I have the opportunity to engage with a fellow runner, talk with an expert and get exactly what I need. As an added benefit, I get to support a small local businesses, which I love being able to do.
It did not occur to me that this story was worth sharing until it happened recently when I wanted to ride down the Long Tail again. Like before, it would have been much easier and more convenient to have gone to Amazon, but I really wanted to talk with someone before making my purchase.
For years, I have made a practice of Julia Cameron's Morning Pages. I find the act of writing a form of active meditation, and often time find answers to tough problems while relaxing at the same time. A couple of weeks ago, I was listening to a Tim Ferriss interview with Neil Gaiman. Although I have read a ton of Gaiman's books, I do not care for them but still find him terribly interesting, so I was excited to listen to the interview.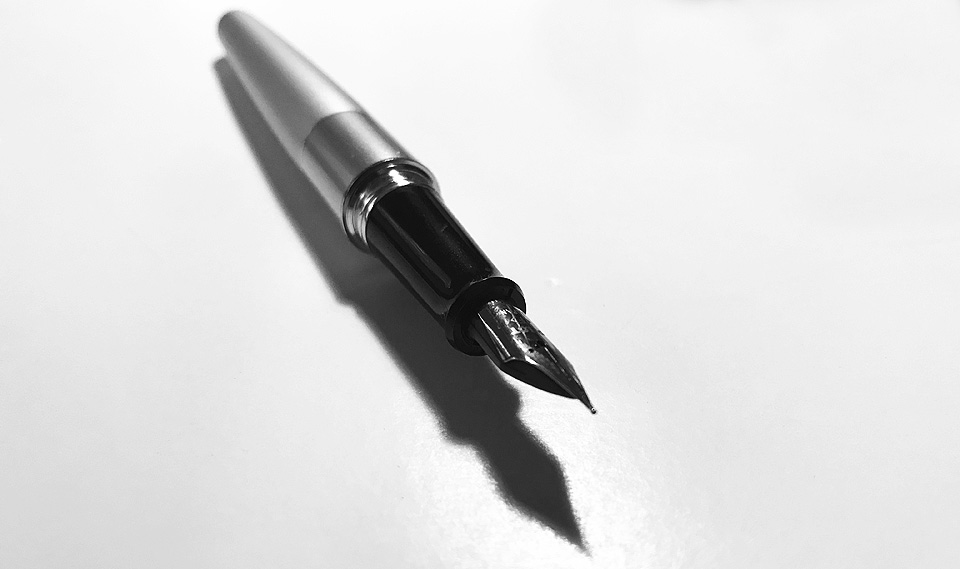 One key topic discussed was that he begins writing his novels by hand, not on a keyboard, and he uses a fountain pen. Gaiman went on extolling the virtues of writing with an elegant pen. Such a pleasurable experience. Years ago I had a fountain pen my grandfather gave me but misplaced it — I am sure it is tucked away in a box somewhere in the house. After listening to Gaiman, I wanted one.
I found a shop in Rice Village that deals in specialty writing instruments called Dromgoole's. I drove into town early Saturday morning to beat the afternoon rush that overtakes the Village on the weekends. I pulled up, walked in, and understood how Harry Potter felt when he walked into the shop to buy his first wand. The place was magical.
I was way, way down the Long Tail. I entered into a world where people value the simplicity of making letters and words by hand. Adding meaning and personality to the words they write. People who slow down long enough to absorb all that is good in the world, including the simple and pleasure of writing.
As I entered the store, Larry Dromgoole introduced himself to me and asked what brought me in.
"I'm looking for a starter fountain pen", I replied. Larry asked for a a price range and jumped right into showing me an array of pens. Holding each pens, dipping the tips into a jar of ink to see how it looked and felt as I wrote – the experience was wonderful.
I felt like Harry Potter leaving the store – equipped to perform magic.
And isn't that what traveling down the Long Tail is all about after all. Yes, the Long Tail is about choice and economics. It worked in spades for both of these examples because there is no doubt in my mind both these shops just got a customer for life. The added benefit is this journey is that you not only have the opportunity to connect with new things, by finding exactly the things you want, but there now exists an unforeseen opportunity that pushes the idea even further, to be able to explore more of the things that make you happy but also dive more into who you are.