The 2nd in a series about how big ideas are good for business.
Some ideas are so big that if they work once, surely they will solve other problems, too.
I'm not opposed to recycling ideas for different clients. In fact, a creative director I worked for years ago encouraged it. Now, I hate to think we would commoditize our creative output, but when you're in the business of generating lots of solutions, you start to see how the same answer can solve multiple problems. This approach saves the agency time and money when the same answer solves multiple problems. But is this good for clients?
Back in my agency days, we landed a plum account, doing national recruitment advertising for Compaq Computers. For younger readers out there, Compaq was swallowed up by HP back in 2002.
Compaq made solid hardware that did nothing flashy, but their products worked well. And all the computers, printers and other bits they manufactured were all a lovely shade of beige. What's funny is that their industrial design was a mirrored reflection of their own corporate culture. Not a lot of sizzle, not a lot of sexy, but that is exactly who Compaq was looking to recruit.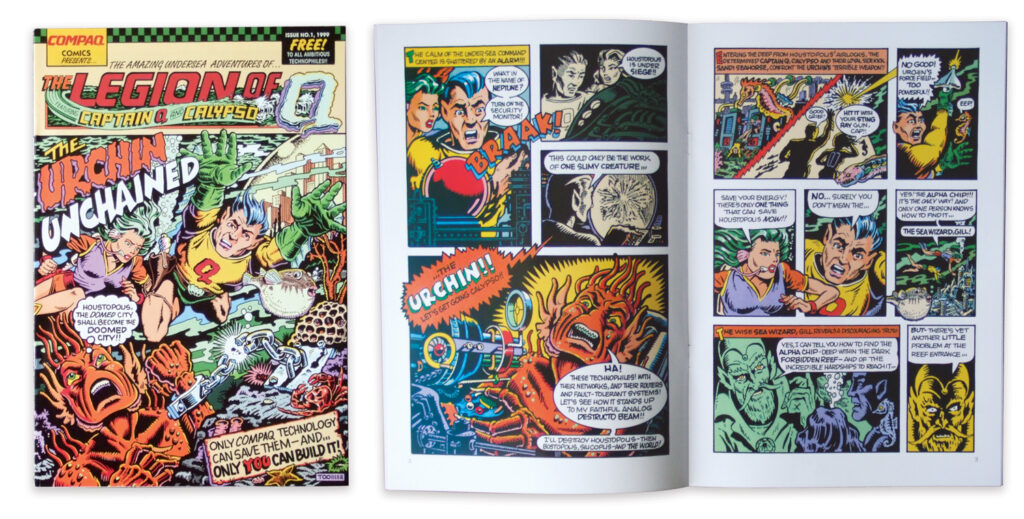 Our assignment was college recruiting. Because it was a new account for us, one of the bigwig CDs from the New York office sat in on the initial client meetings where strategies were discussed. Since Compaq was local to Houston, it was decided to bring me and my writing partner, David Morris, in on the project to add a little local flavor.
So this jack-wagon from New York calls to brief us. In the meeting with Compaq, it was decided the "theme" for that recruiting campaign would be "water." Dave and I just looked at each other, rolling our eyes (good thing there wasn't any Zoom back then). Then Mr. Jackwagon instructed us to not show him any of that trite, predictable, low-hanging-fruit crap — or else! (I don't recall if he actually threatened us, but we'll say he did just for dramatic purposes.)
So Dave and I banged our heads together. After some brainstorming, doodling, crying, hand-wringing, fist fights, a few beers and the like, we agreed the coolest thing about "water" had to be Aqua Man, especially pre-Jason Momoa. In fact, we really liked that over-the-top drama from the mid-1960s DC Comics.
For our initial comps, we went to a comic book shop, bought an old Aqua Man, scanned it in and created a story about an underwater superhero who used Compaq technology to defeat the forces of evil. Captain Q was born. No one saw this concept coming. Our CD loved it so much that this was the only idea pitched to Compaq, and they jumped in head first.
I won't go into all the production details because that is not the point here – and that is an adventure in and of itself – but I have to mention the immense talents of the dearly-departed George Toomer, the illustrator who helped bring our vision to life. Using George's art, we crafted  messages for mailers, a 12-page comic book, ads, handouts, booths, banners, and all the usual campaign trappings. It all worked extraordinarily well. So much so, the campaign exceeded all projections and goals way ahead of schedule. A big win for Compaq and the agency. A big idea in action.
When I first decided on writing this post, this is where the big idea ended. I was planning on going into excruciating detail about how the Compaq project went. But then I had another idea:
Does lightning strike twice?
Before we go any further, let me clear the air. I'm not above stealing, even from myself. Austin Kleon is right, but I am a professional and do not condone outright copying or plagiarism.
Maybe the big idea is not about the success we had for Compaq, or creating a superhero, but more about using a medium again for another project.
Comic books are surprising versatile. As a medium, you can do just about anything with them because they are both visual and verbal. You can cheat the boundaries of conventional narrative, play with the defined spaces and create entirely new universes. What's even better, rules and conventions keep getting broken as artists push the boundaries even further. Comics are an amazing art form.
Since most of my work is in the B2B world, seeing comics in a corporate environment can be downright shocking, and the unexpectedness creates both impact and memorability.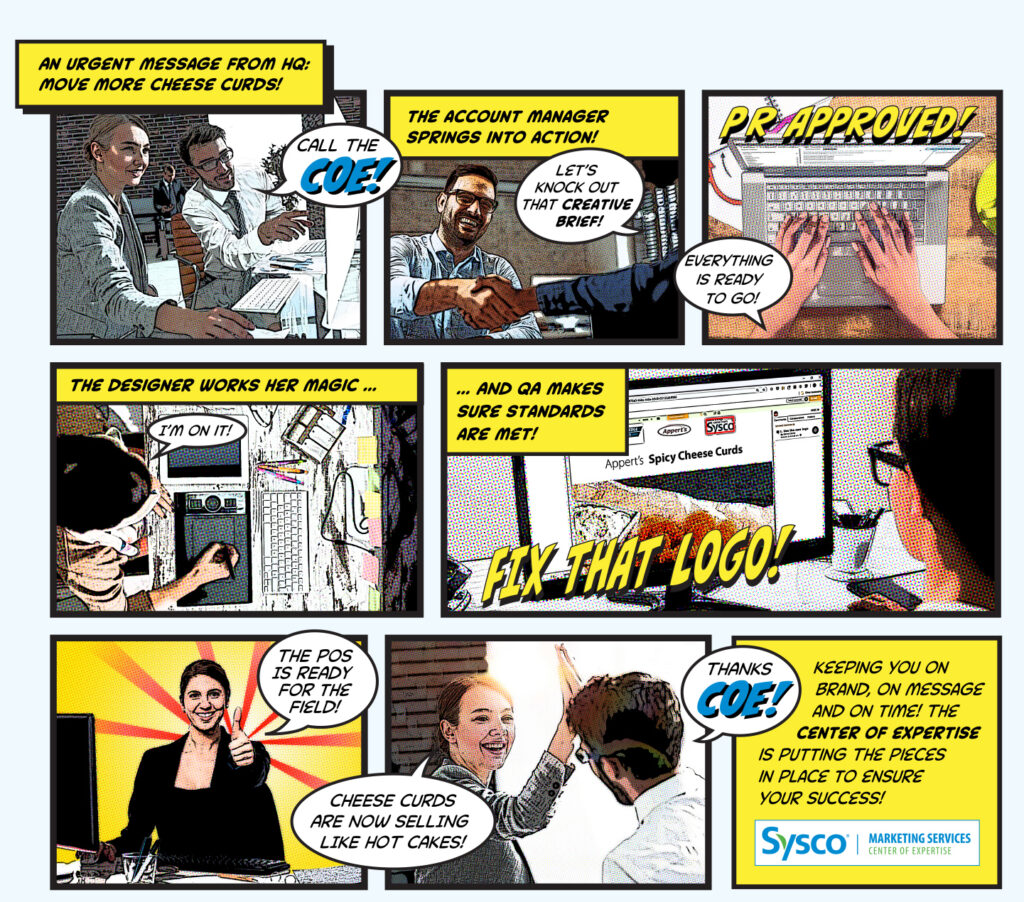 *COE = Center of Excellence, PR = Project Request, POS = Point of Sale
While at Sysco, I was charged to come up with a new position that would help the Brand Managers' push their heavy workloads more efficiently through the design production process. We created a position replicating what the agency world would call an "Account Manager." Briefly, the role would be like the account executive you'd call at your agency to get your projects knocked out, but for our purposes, this would be an internal position, not outsourced one.
This was not the big idea. How the Account Manager was introduced to the marketing staff was.
What we wanted to do was be able to show the Account Manager in action so that the Brand Managers could see how much easier their lives would be with this person's guidance.
The initial presentation took the form of a skit, where I played the role of the Account Manager, and four of my peers played various characters who would touch the project as it went through the production process – the client, a coordinator, designer and Quality Control. To support the story, I created a comic book, where each frame described a step in the process.
After the presentation, each member of the staff was given the comic in the form of a puzzle, something colorful and fun that they could keep at their desk as a constant reminder of how the new Account Manager was going to help them.
There was no room for ambiguity. Understanding was crystal clear. A couple of Brand Managers told me this was hands-down the best presentation they'd ever seen at Sysco.
The big idea here is about using mediums differently. There are always opportunities to recycle ideas, turning them into something fresh and new. As these two stories started coming together, it occurred to me: maybe Marshall McLuhan is right – often times the medium is the message.